My Little Karaoke - 2017 to 2022 update (and video)!
By MLK:SiM on 2017-08-04, 00:54
Hello and welcome to My Little Karaoke !
We're delighted to announce the release of the new 2016 2017 … 2021 version of our game, bringing even more songs and more features to your pony karaoke parties. Our beta testing phase is finally over, and all songs and other improvements are now consolidated into this stable release. We hope you'll enjoy playing our game!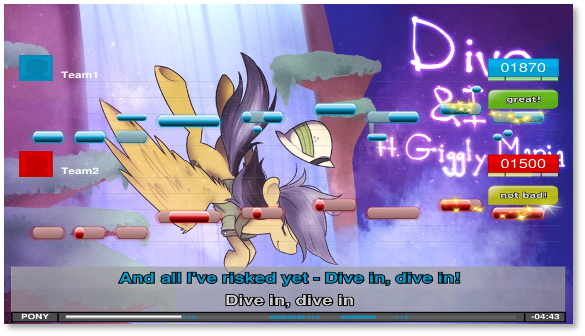 ---
December 3rd, 2021 update: we've rebuilt the website, forums and leaderboards are back! New songs continue to be released through the game's launcher, check them out!
August 5th, 2017 update: we've made yet again several improvements! Please run the installer (or launcher) again to download the latest version of the game. Along with a lot more new songs, the engine has been significantly improved for performance, the online leaderboards are live again, and many many many many bugs such as the search function have been fixed. We hope you enjoy this release!
April 19th, 2016 update: we've noticed a few issues with the current release and fixed a few things, including duplicate songs showing up in the selection screen. Please run the web installer again if you already have the game, as it will automatically download the needed fixes (this will not download the full game again, only update files). New users can get the game as usual by running the same web installer.
---
My Little Karaoke is available free of charge for Windows, Mac OSX, and Linux. Grab some mics and start playing!
Features highlight
The game is now much easier to install: our new web-based installer will allow you to both update your current setup, or install the game from scratch. It will also automatically verify downloaded files to prevent installation errors, and allow you to resume downloads if it's interrupted for a reason or another. The 110+ new songs (not counting variants) that were released through the Beta Channel are now part of the main download as well, bringing the overall total to more than 450 songs. New songs will also be released from time to time, which you'll be able to download directly from our launcher.
This major release introduces a brand new, shiny version of Ultrastar Deluxe, the core engine behind the game. It's a huge rewrite of the game: as it's now running on SDL2, it will be a lot more stable on modern operating systems (Windows, Mac, and Linux still supported). As a result, the game will also use a lot less resources to run, which will seriously boost performance on low-end hardware (eg, low-cost tablets for portable karaoke on the go). Everything from the WorldParty mod (Beta) has been included as well: duets are now standardized, 6 simultaneous players can play on a single screen (or still spanned across two screens for huge karaoke events), online leaderboards are integrated into the main game, and much much much more.
MyLittleKaraoke updates
New web-based installer makes it easier to download or update the game
More than 110 new unique songs now added (as well as duets, instrumentals, and variants)
Updated theme (and theme variations)
Faster release cycle for new songs (available directly in the launcher)
Introducing UltrastarDX 1.3.0!
The core engine has been fully rewritten to SDL2 and now boast support for all modern operating systems, as well as a lot of speed improvements
Players can now pick difficulty independently from one another
Added avatars, duets, jukebox, more party modes, 6 players on a single screen, online leaderboards and more - all now part of the core engine
Updated song progress bar, with more accurate timings and now showing singing parts
Revamped theming engine, with new song list presentation styles (Carousel, Roulette, etc)
New in-game hotkeys: S = skip song intro, V = change background visuals, W = webcam on/off toggle
Screenshot Gallery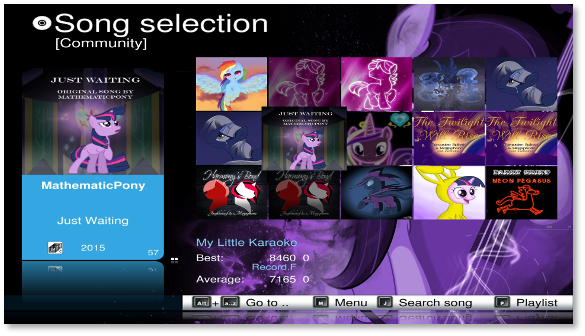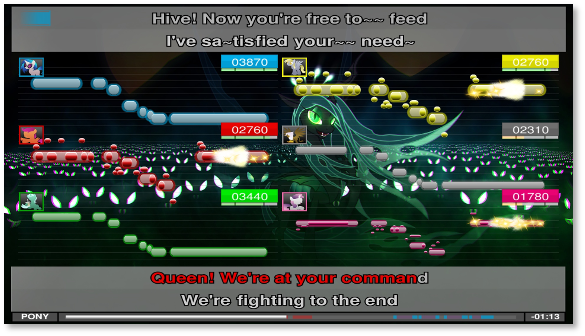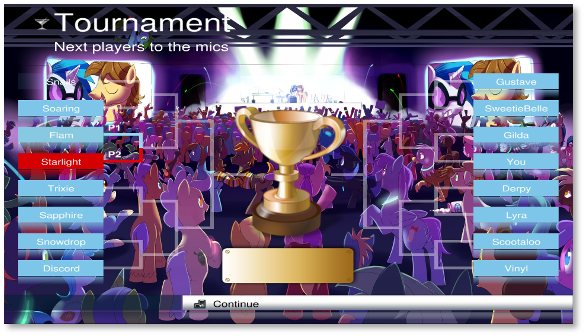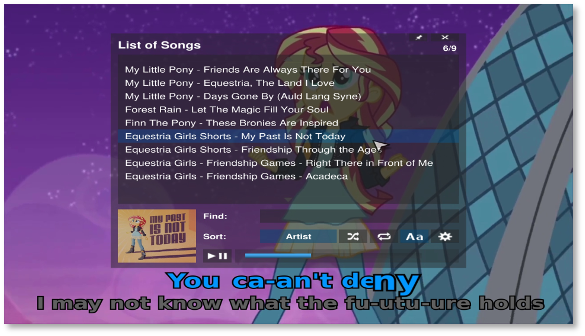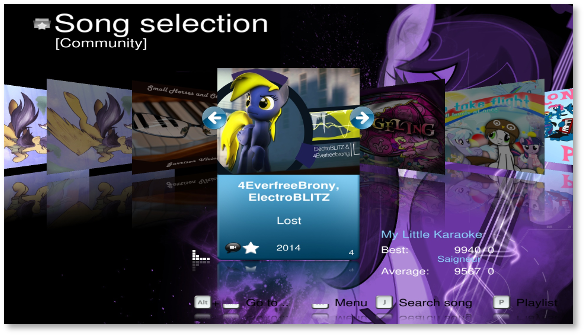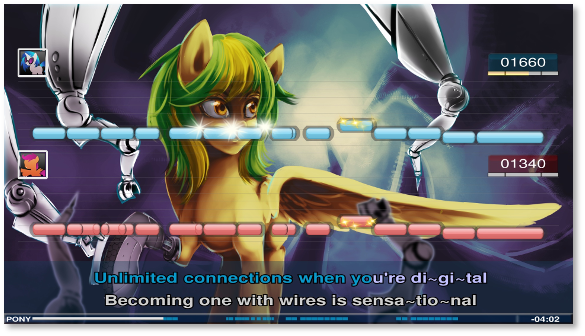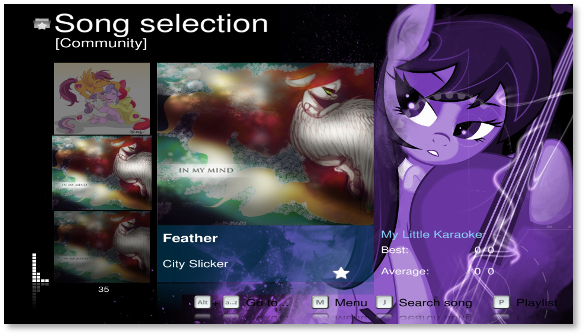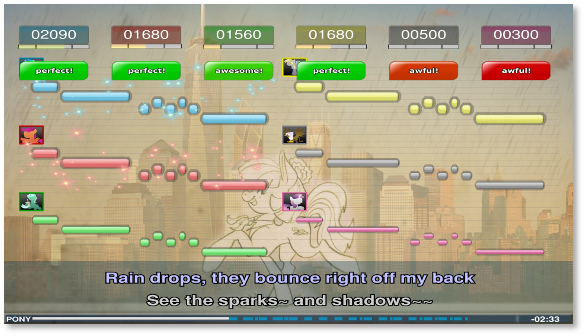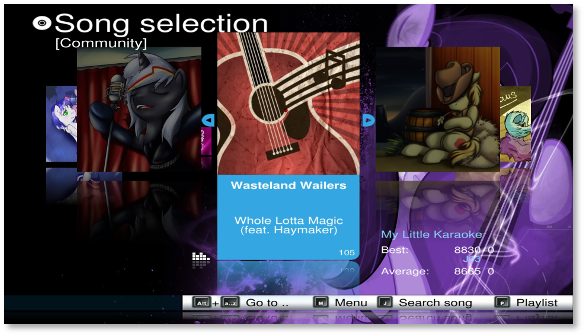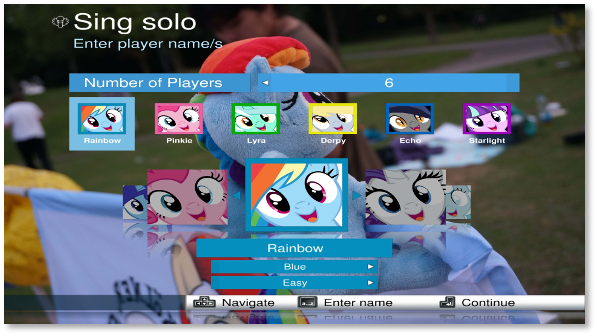 ---
I'd personally like to thank everyone who worked hard to make the game, and this release, possible:
All song file creators and all artists, past and present (and future), who ever contributed to the game! Without you, we wouldn't be having so much fun!
Smilley, for his continuous excellent work on all major songs since we first started the project in 2012
PsychicWalnut, for recreating instrumental variants of major songs through significant audio engineering
Yaymuffins, for outstanding tech support and availability, ensuring everything goes smooth at any time for this project
mediumdeviation, who built the leaderboards from scratch, and Phase4, who created the usdx leaderboard plugin
RainbowDerpy, who single-handedly tackled the huge task of learning Delphi / FreePascal to massively revive Ultrastar Deluxe itself, and ensure its cross-platform availability
KawausoDashi, for fixing the Mac OSX-related issues we were having in a mere few days of crunch time, finally allowing us to release this update
And many other who helped making this game a thing, including but not limited to: FloppyChiptunes (gfx), MyLittleVisuals (gfx), Elidyros (gfx), ShTHfan1 (song files), sleumas2000 (song files), RD1042 (song files), SR (support), and everyone related to My Little Karaoke!
Thanks, guys and gals - you're relentless workhorses and sank so many hours into what only started as a silly little idea. Love you all!
— Renard